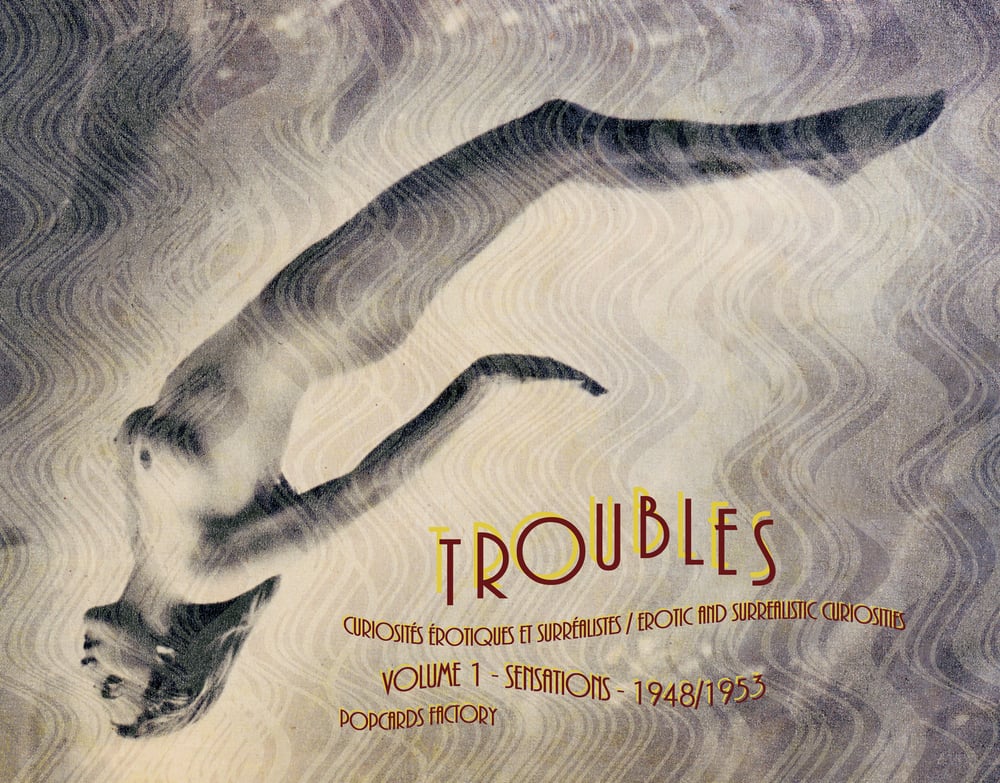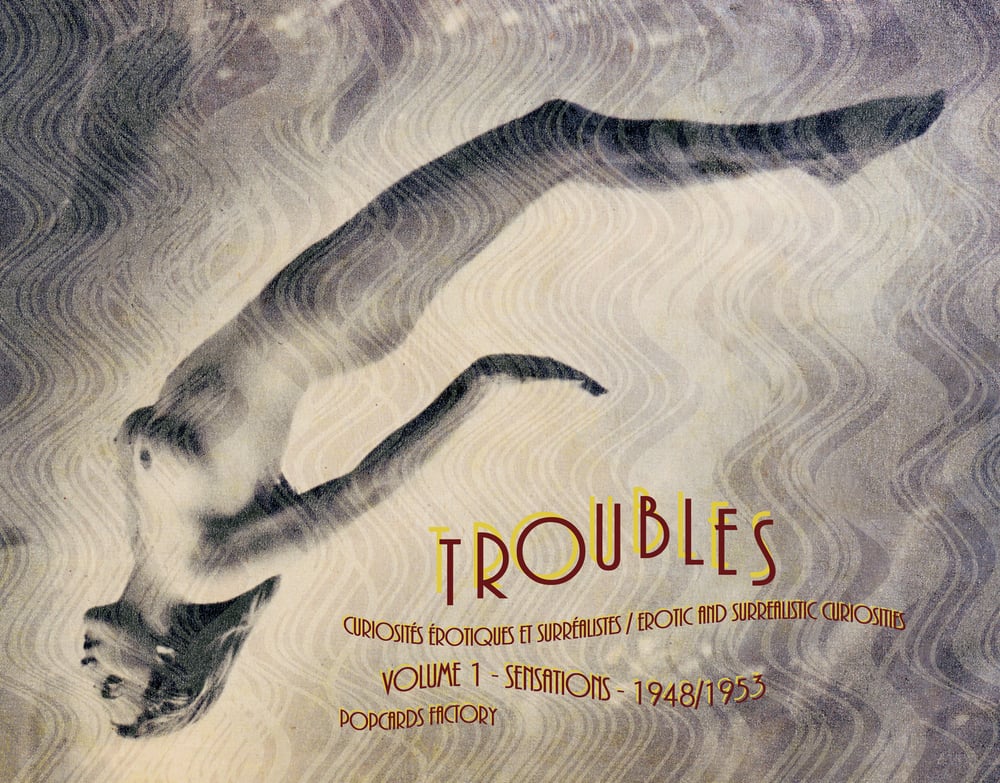 Troubles, Curiosités érotiques et surréalistes / Erotic and surrealistic curiosities
€25.00
+ 10 cartes postales exclusives
+ 10 exclusive postcards
Pour en savoir plus, il suffit de cliquer ici / For more information, just click here :  http popcards-factory.blogspot.fr


English :
Popcards Factory is launching a new collection of books entitled Troubles dedicated to the erotic curiosities and oddities in French girlie mags of the 1940's and '50's.
The first volume is dedicated to Sensations, one of the most unique and surprising publications of this era. Over some 58 issues, from 1948 to 1953, this mag enchanted us in so many ways, and demonstrated the close ties between popular culture and avant-garde artistic movements.
The themes covered throughout the 192 pages of this richly-illustrated book (more than 400 photographs have been reproduced in this publication) are as follows:
. Erotic alphabets,
. Abstractions and oddities,
. Anatomical blazonry,
. Sensual reveries,
. Cutouts and superimpositions,
. Interlude,
. Phantasmic settings,
. The Sensations Pin-up,
. Disrobing and provocations,
. Letters to the Editor,
…And, last but not least, a reproduction of all the covers of Sensations.
Florian, creator of the blog Au Carrefour Etrange, did us the great favor of writing the foreword of Troubles.
The entire text was translated into English by Allegra J. Cramb.
192 pages, 18 x 24 cm, soft cover.
Français :
Popcards Factory lance une nouvelle collection de livres, Troubles, consacrée aux curiosités et bizarreries érotiques des revues coquines françaises des années 40 et 50.
Le premier volume est dédié àSensations, l'une des publications les plus singulières et surprenantes de cette période. S'étendant sur quelque 58 numéros, de 1948 à 1953, elle a su nous séduire par bien des aspects et montrer à quel point sont reliés la culture populaire et les mouvements artistiques d'avant-garde.
Les thèmes abordés au cours des 192 pages d'un livre richement illustré (plus de 400 photographies ont été reproduites dans cet ouvrage) sont les suivants :
. Alphabets érotiques,
. Abstractions et bizarreries,
. Blasons anatomiques,
. Rêveries sensuelles,
. Découpages et superpositions,
. Interlude,
. Mises en scène fantasmatiques,
. La pin-up Sensations,
. Déshabillages et agaceries,
. La boîte aux idées,
… Et pour finir, une reproduction de l'ensemble des couvertures de Sensations.
Florian, créateur du blog Au Carrefour Etrange, nous a fait l'amitié de rédiger la préface de Troubles
L'ensemble des textes a été traduit en anglais par Allegra J. Cramb.
192 pages, 18 x 24 cm, couverture souple.